Our Vision
We are intent on providing a high quality, efficient, 24/7 contact center service to clients abroad for both inbound and outbound transactions by utilizing highly trained and motivated staff, the latest technology and by developing a culture of excellence resulting in total client satisfaction and profitability.
Our Mission
To create custom-designed BPO solutions for clients that serve as a seamless extension of their own service to customers while adhering to the highest standards of affordable quality.
Chairman of Protel BPO holds a Bachelor's Degree in Accounting
from Fordham University in New York and a Masters Degree
in Business from Oxford Brooks University in the UK and is
ACCA qualified. He presently holds the position of CFO of Citrus Products.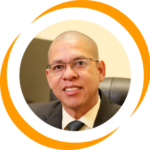 CEO of Protel BPO has a Bachelor's Degree in Accounting from
Baruch College in New York and is CPA qualified. He worked
with Deloitte as a Senior Auditor, he was the CEO of the Belize
Chamber of Commerce and was also Country Manager of CHx
Belize LP, a Petroleum Investment company in Belize.