Protel BPO exists to CREATE STRONG, LASTING, POSITIVE CONNECTIONS between companies and the people who do business with those companies.
We do this every day by honoring the people we employ, the culture they live in and providing the training and incentives that naturally develop a culture of positive leadership. We not only hire the best talent, but also provide in-person engagement and oversight of team members, observing and refining their skills on every call for optimum nearshore customer service. This culture of ongoing training that exists at Protel BPO means that we are always pursuing growth for your brand. Our open-door policy ensures that agents serving your company have the full support and resources of our management.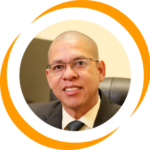 As the CEO of Protel BPO, Kevin takes the time to get to know his staff, from the upper management to the agents. He has always had an 'open door' policy, cultivating an environment where any staff member is comfortable enough to knock on the door to his office, sit down and discuss anything with him. Our employees feel at ease when speaking to Kevin because he always has a smile on his face and greets the agents as he passes through the production floor. It is not common for agents to be able to share the same building with the company's CEO, much less walk into their office. This makes him even more approachable and makes our team proud to be working with him. He is humble and always willing to offer a helping hand. His experience, determination and great people skills have enabled the company to grow and succeed in a competitive Belize BPO market.
Quick Facts About Kevin:
One of the founders of Protel BPO Ltd.
Holds a Bachelor's Degree in Accounting and Finance and is a CPA
Has over 20 years of experience in various companies and organizations including Deloitte, the Belize Chamber of Commerce and Industry (CEO), CHx Belize LP (Country Manager) and Protel BPO Ltd.
TONY MORRISON
Vice President of Business Development
With over two decades of experience in the global contact and nearshore call center industry, Tony brings a passion for fulfilling business objectives, a consultative selling approach and focus on quality outcomes to his role as Protel BPO's Vice President of Business Development. Over his career, Tony has set organizational strategy, managed complex sales processes and overseen internal launch teams for several brands in the BPO industry.
Owning and operating several businesses; directing sales of domestic, at-home, offshore and near-shore global contact center solutions; and providing strategic leadership for IVR, cloud ACD, and CRM technologies has added to his expansive experience in the B2B market. This experience has included work for many Fortune 500 companies, with specific verticals in healthcare, financial services, travel and hospitality, entertainment, retail, insurance, and government.
Quick Facts About Tony:
20+ years of experience in the BPO industry
Bachelor's Degree in Business Administration
MISAEL COWO
Human Resources Manager
Misael has a deep understanding of the nearshore customer service labor market and its importance to Belize outsourcing services. He is always positive and ensures people are treated fairly. He is a great people person, and we find that several agents, and even staff members, confide in him and look to him for mentoring. Misael is always organized and ensures that all areas are covered with the necessary procedures. He has excellent communication skills. Because of his previous experience, he can adapt to any position given to him and excels at every one of them.
Quick Facts About Misael:
Started with the company six years ago when he entered as the Operations Manager
Has 15 years of call center experience in every possible department of this industry
He has been our HR manager for four years
Has a bachelor's degree
Before coming to Protel, worked with Tracfone, for five years
SHAMIR VILLANUEVA
Operations Director
Shamir, as Operations Manager, focuses on each operational matrix to ensure the company's philosophy of giving each client a great nearshore customer care experience is achieved.  Shamir has contributed much to the operational success of the company, as a leader in the Belize BPO industry, and always has ideas he is looking to implement. With the international education Shamir has achieved, he has been able to provide a unique input in the implementation of his ideas. Shamir understands that achieving complete client satisfaction takes everyone from the team. He is good at making the agents feel important and always wants to grow, which is key in this industry. Shamir's door is always open to the agents as he works to build a trusting relationship with them. He is an excellent motivator, and a great leader.
Quick Facts About Shamir:
Part of Protel BPO since day 1
Holds a Bachelor's Degree in International Business
Started off as an agent and earned a promotion to Operations Director
Worked in a car dealership in New York, where he gained exposure, and gathered experience in both customer service, and direct sales
Has worked in New York, where he gained exposure, and has gathered experience in both customer service and direct sales
ILLIANA POLLARD
Operations Manager
Illiana is a service-above-self team player.  She is always willing to learn new things. She is incredibly good with client interaction and has great communication skills. She is driven and is always up for a new challenge. Illiana has always exceeded expectations with specific challenges we have faced. She is always willing to suggest new ideas to implement that may help the operation of the business – and our continued success as a Belize outsourcing contact center is a reflection of Illiana's leadership.
Quick Facts About Illiana:
Has international and local operational experience in the industry
Has worked on high value and high maintenance accounts such as Tracfone/Net10, T-Mobile, and Xerox in Guatemala City
Experience not only in customer service, but also in sales for companies in the U.S.
Has worked in senior positions internationally in centers exceeding 1500 employees
Knows how to get the most out of a team
Started with Protel almost six years ago
Started out as an agent and was quickly promoted to a supervisor, then recently to Operations Assistant
The Protel BPO team is here to solve your contact center needs!